Nina Schneider
PIZZALAND/SOPRANOLAND
I schlepped home to Jersey for the first time in years, mainly to take a picture of Pizzaland, which is nothing more than a greasy spoon no doubt fronting for some shady goings-on in the back room. North Arlington -- the whole town is one gritty square mile, of which one-fourth remains open space -- Holy Cross Cemetery. Florists and monument stores still flourish along the main street, Ridge Road.
"The Sopranos" opening segment on HBO entices me to revisit Pizzaland every week, even though I spent the first 17 years of my life singing:
We gotta get out of this place
If it's the last thing we ever do
We gotta get out of this place
'Cause girl, there's a better life for me and you.
--Original soundtrack by The Animals
Before Giants Stadium was built, there was the gaseous stink of the euphemistically named Meadowlands. The unmistakable smell rose through 6 story-high layers of dumped garbage, and gently but relentlessly wafted from Secaucus to ticky-tack storefronts and houses built along the hillside overlooking a hopeful post-WW2 New York City skyline. Here was home to upwardly mobile lower middle class families migrating from the tenements of Jersey City (my father's home), Hoboken (home of Frank Sinatra) and Bayonne (home of Congressman Barney Frank). Here was the destination of my Jewish family's re-enactment of Westward Ho! – 9 miles west across the marshes, into the legendary suburban wilderness of Kearny, North Arlington, Belleville, and Lyndhurst. These communities also became home to middle management Mafia (before they moved to Paramus and Lodi), and were memorialized some 50 years later on "The Sopranos."
Check out ''The Sopranos'' online: http://www.hbo.com/sopranos.
Art Imitates Life/Life Imitates Art
I heard there is now a "Sopranos Tour" that traces the route of the tragic anti-hero mob boss, Anthony "Tony" Soprano, as he drives from Manhattan through the aesthetically challenged landscape of Northern New Jersey. There's even the fictitious Bada Bing nightclub, a lowlife strip joint, built on the site of a former slaughterhouse. Who needs a tour when you've lived it? On TV, we're visually bolted to the passenger seat as Tony crosses the Meadowlands via the NJ Turnpike (the Soprano's teenage daughter is named Meadow-get it?). We see "original" Jersey barriers on the highways, tollbooths, and rust-belt era elevated roads like the Pulaski Skyway. Jagged steel beams nudge the ribs of the clouds as Tony drives by with a fat cigar in his mouth and the music reaches a crescendo.[1]
Shame turns to pride and then to horror. I am home, and enjoying it for the first time in my life. Perhaps because I escaped. And Pizzaland is still there. . . in memory, in reality, and on TV. I tell my amazed New England suburban friends, "Pizzaland is no façade." Even a distant cousin from the rich side of the family, a professor at Columbia University who lives in Ho-hokus, is impressed…he howls when I tell him I escaped Sopranoland. I ho-ho-ho at Ho-hokus. Meadow Soprano (or someone just like her) is probably one of his students.
The "Tony" Awards
I graduated high school with some of the guys in Tony Soprano's senior management. Seems like every guy in my senior class was named Tony, Joe or Frank. Back then, a "hood" referred to a greaser, a delinquent who dressed tough in jeans, tee shirt and a black leather jacket (yeah, how cliché) and duck's ass (DA) hair. He smoked Camels and cruised Belleville Turnpike near Pizzaland in a souped up convertible.
They thought they looked like Michelangelo's David.

The female hoods wore gravity defying teased hair, heavy black eyeliner and short tight skirts with mohair sweaters. They were mostly named Linda, Marie and Angela. Tony's wife Carmela could have been in my yearbook.
There were two high schools in town: Queen of Peace School was the parochial school next to the church with the white spire, the tallest point in town. The dropouts from QPS (referred to by us townies as Quarter Pound of Shit) transferred to my public school, where the highest ambition of most students was to graduate and become an auto mechanic or hairdresser, depending on gender, with few exceptions. This was a homophobic, racist, anti-Semitic and sexist stronghold; still is. Make no mistake, though, everybody looked GOOD. Beauty was a serious aesthetic here. Morality was on the back burner, and academics…c'mon.
When I volunteered in the guidance office, a cute hood wannabe named Joe used to share his troubles. In "The Sopranos," Tony the mobster pours out his heart to a psychiatrist, Dr. Jennifer Melfi, about such dicey issues as infidelity, panic attacks and a dysfunctional family. For example, in a tense couples therapy scene, Carmela reveals to Dr. Melfi that her husband "will screw anything that moves." Tony shrugs and checks out Dr. Melfi's legs. Following the session, Dr. Melfi, a stone-faced professional in a short skirt, starts drinking over her conflicted feelings toward Tony and seeks help from her own therapist.
This approach has been heralded by critics as "cutting-edge." In an on-line interview, Sopranos creator David Chase said that while growing up in an Italian family in Northern New Jersey, he was fascinated with old gangster films like "The Public Enemy." The Mafia icon of this 1937 movie, played by James Cagney, unintentionally appeared to glamorize criminal activities. Hence, the film hastened efforts of Hollywood's self-imposed Production Code …to strictly censor films…that depicted undesirable social figures or sexual subjects in a sympathetic or realistic way.2 Chase now gives us Tony Soprano—in a sympathetic and realistic way, except when he's ordered a hit or "whacking" someone himself. There's also the womanizing, the racism, the homophobia, the Malapropisms, and a Doctorate in Street Smarts.
Reunion
When I received an invitation to my 25th high school reunion, I couldn't resist. My mother was still living in town at the time, and so I left my two kids with her and gave my husband instructions before we left: act like the heavy boyfriend. He is 6 feet and can pretend to be intimidating, but not for long.
The reunion dinner was held at an Italian (what else) restaurant in Lyndhurst. I used to be one of the nerdy girls, so I decided to be reckless and guided my Harvard educated husband to a table of middle age "hoods." A big guy named Vinnie started talking to us in a heavy Jersey accent, and informed us proudly, "I'm in construction."
"Oh, do you own your own company?" my heavy date asked.
"No, I'm a construction worker," he replied, with blue-collar swagger.
"Oh."
The evening was like that. There was a moment of silence for the five boys who would never make it to a reunion. Two died from drug overdoses, three came home in body bags from 'Nam.
Another classmate stopped by to say hello. He now ran his dad's funeral business, where I witnessed my first wake. Tony and I used to take violin lessons together in elementary school. I'll never forget our screeching Bartok duet performed at the sixth grade graduation of the Thomas Jefferson Elementary School.
"Why are you taking violin lessons if you hate it?" I had asked.
"Because my father made me…for manual dexterity."
"Oh."
One girl, who edited the school newspaper, now worked as a 911 operator. She was a single mother and looked, as a few people whispered, "like she'd been through the mill." To be fair, a few of us had indeed escaped. One guy, my first boyfriend, was a jewelry wholesaler; a former nerdette taught Spanish at a "ritzy-titsy" private school.
Most of the hoody girls had lyrical names, like Lynda Rovetella and Cindi Venterini, with an accent on the third syllable. Now many were stay at home mothers; one owned a restaurant, and another managed a hair salon. The DJ played, "I Heard It Through The Grapevine" and bodies spilled onto the dance floor like we did in high school, feet not moving, but shoulders and hips doing the work, with knees following. "Honey, honey I know, that you're lettin' me go….." Marvin Gaye's voice was the only black presence in the function room.
Every able-bodied girl in town had attended the local dancing school, Miss Vivian's. I dropped out in third grade, but sheepishly returned in high school to hone my gymnastics skills as a junior cheerleader. (There were no girls' sports back then, so I needed the exercise. For the record: I hate football). I recently took a writing class from Miss Vivian's grandson, who wrote a book called "The Lost Legends of New Jersey." My recollections are far less lyrical, I'll admit. In the yearbook, the headline above the girls' marching squad was: "The Women Behind the Men." So much for gender equity. "The Sopranos" generation lives on, in memory, in myth, on TV.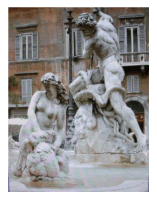 Some of My Best Friends are Italian
Didn't I mention that some of my best friends are Italian? Maron! My Italian friends love "The Sopranos." Pisano! During high school, I steered clear of the hard-core hoodettes, who used to swear in Italian. One girl drove to school in a pink Cadillac (I kid you not), a present from her Daddy (he was officially in waste management, like Tony Soprano). I remember this girl always screaming in the locker room, "Kiss my twat." I wasn't sure if twat was Italian or not, but I was pretty sure it was dirty.
In homeroom, I became buddies with one of the glamour queens, who turned out to be really nice. Another girl, I remember, was very very mean. She reminds me of Janice Soprano, Tony's sister, a very nasty and petty character. She's the chubby one who refused to sign my yearbook, the twat.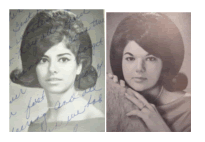 One friend, an Italian lawyer who lives in Providence, Rhode Island, is an exception. He won't watch "The Sopranos" because he finds it "too vulgar and violent." That's fair. I cringe at the vulgarity and violence, yet it transcends into … art? Why does watching "The Sopranos" feel so redemptive to me? Perhaps my Jewish friend Eric Wasserman said it best. "On a very basic level, art is concerned with the confrontation between who we once were and who we have become." But can you really ever go home? The Sopranos give me a virtual home, at best. But. yet….is it live, or is it Memorex? While I returned to N.A. and took a photo of Pizzaland, the old Bowl-O-Drome at the bottom of the hill was gone, replaced by a huge video and DVD rental store.
For the record, actor James Gandolfini, who pays Tony Soprano, grew up in northern New Jersey, where his mother was the cafeteria lady and his father was the school janitor. His Emmy award-winning performance "reeks with authenticity," says my Italian (pure blooded Sicilian) friend Denise. Denise doesn't buy the mob icon portrayals by such Hollywood stars as Al Pacino ("Scarface") or Marlon Brando ("The Godfather"). "Pacino is too pretty, and Brando overacts," she said. "Their daily lives aren't prosaic enough." She reminded me of the episode where FBI agents staked out Tony's house, suspecting a mob summit meeting, but all the excitement inside was over a leaking water heater in the basement.
Denise and I met in Boston. Both professional women and pregnant for the first time. We had enrolled in the same hospital birth class. Our sons were born on the same day, May 3rd, 1979. She named her son David, as in the Old Testament king and Italian statue; I named my son Michael, as in the Hebrew archangel and the fictional Godfather's son, Michael Corleone.
I grew up in the most anti-intellectual town in Bergen County. The library was located in a dingy storefront," Denise boasted.
"No you didn't. I did," I retorted.
After this banter dragged on for too many minutes, her husband, in exasperation, shouted, "So what town did you come from?" My reply begat stunning silence.
Denise, who is two years older than me and holds a Ph.D. in French Intellectual History, graduated from Queen of Peace High. We'd never met.
N.A. Public Library
RECENT ACQUISITIONS

(1969 -1970)
Iconic Archetypes in Mafia-themed Literature by Mario Jung, Ph.D.
Bang Bang You're Dead: cinematic portrayal of psychopathology in Italian mob families, by Pauline Kael as told to Woody Allen
Neo-classical Lawn Ornamentation in Post-World War 1I Suburbia, by Martha Stewarti
Rome: a Pictorial History, by Nero Grappa
Famous Lunch Spots of La Cosa Nostra, featuring Pal's Cabin, by Joe Bonanno
Secaucus, Hog Butcher of North Jersey, by "Piggy" Galore
Jimmy Hoffa is Buried Under the Pulaski Skyway by Eliot Ness III
Poisonous Flora and Fauna of the Meadowlands by the Rutgers U. Toxicology Lab
Sicilian Migration from the Lower East Side to Lower Bergen County, 1945-1960 by Shirley Katzman-Messina
I Did It My Way by Frank Sinatra
Sinatra Slept Here: Copacabana Before Castro by Ernesto "Che" Hemingway
I learned to swim in a Miami Beach hotel pool while visiting my rich aunt Sonia in the 1950's. Sonia, who married twice and made a fortune in commercial real estate, retired to the same condominium complex as the notorious Jewish gangster, Meyer Lansky. Everyday she'd see him in the elevator, taking his poodle out for a walk. Unlike his flamboyant Italian partners in Murder, Inc., Lansky was a low profile family man who died of old age. I recall the Sopranos episode when a family of ducks lands in Tony's backyard pool. Tony becomes obsessed with "the ducks," which Dr. Melfi, in therapy, explains was a metaphor for his family. The sentimental characterization of Tony temporarily charms us, until his next egregious act.
In high school, the hoods treated me as "off limits" because my father, a small-town criminal attorney, once got some of their friends off on a drug charge. Daddy, who secretly fancied himself a consigliore, also represented the best family owned Italian restaurant in town, The Open Door. That's where I learned to eat my favorite pasta dish, manicotti. My father, however, forbade me to go out with the local Italian boys. In those days, girls were strictly categorized as either a Madonna or a Whore, so I reluctantly assumed the role of a Jewish Virgin Mary…until I escaped.
In seventh grade I had to do a report on a book called Jersey's Story. Here I learned that New Jersey calls itself the Garden State, as in Garden State Parkway. Actually, I already knew that from the license plates, and the Parkway, which we took in the summer to drive "down the shore." The shore could mean anything from Long Branch to Cape May, but in high school during the 1960's, we mostly hung out near

or under the boardwalks of Bradley Beach, Belmar or the Asbury Park of Bruce Springsteen, who also admired The Animals' lyrics. Outside town limits, my non-hood friends and I wore college sweatshirts with the University of Florida or University of Miami emblazoned happily across our tits. This was not considered pretentious because it conjured up images of summer vacation or movies like "Where the Boys Are." I didn't dare wear a Harvard sweatshirt …that was just too pretentious. In fact, as I write this, the old fears return . . .
A few years after graduating from college, I worked as a public information officer for the Massachusetts Department of Public Health. I obsessed over a national "Cancer Registry" map being prepared for public release. I anticipated panic, as it was color coded for cancer rates by region, and my own hometown in Jersey sat smack in the middle of a fluorescent orange "cancer zone." Once, to liven up a lengthy staff meeting, I announced to colleagues that I grew up in the toxic state. A Ph.D. statistician from the Harvard School of Public Health asked jokingly if I were some sort of mutant. Seething, I aimed my slime green marker and launched it – a perfect arc across the conference table – as everyone witnessed a direct hit on his white oxford-clad prissy heart. My boss, a former gang leader turned administrator and Tony Soprano look-alike, roared. He gave me considerably more respect after that.
1.5 Seconds of Fame
Artist Andy Warhol, musing upon the synergistic relationship between celebrity and mass communications, said, "Everybody will be famous for 15 minutes." At this moment in time, the 15 minutes of fame have been compressed to 1.5 seconds – PIZZALAND. However, take heart… if you watch "The Sopranos" every week, re-runs and video/DVD rentals, as well as read this story, then what the fuck, the effect is cumulative.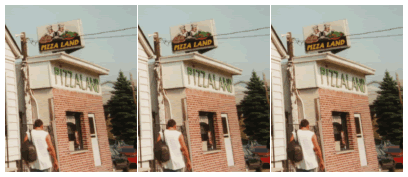 [1]Theme Lyrics to HBO's The Sopranos
You woke up this morning
Got yourself a gun,
Mama always said you'd be
The Chosen One.
She said: You're one in a million
You've got to burn to shine,
But you were born under a bad sign,
With a blue moon in your eyes.
You woke up this morning
All the love has gone,
Your Papa never told you
About right and wrong.
--Alabama 3