Green job stimulus
By: Michael Favicchio
We hear it every day. The job market is bleak. Even the most determined young professional can turn sour when hearing that Boston's unemployment rate has soared to 7.4 percent, according to the latest US Bureau of Labor Statistics report.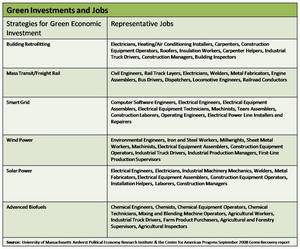 But with an expected $250-$500 million in grants from the US Department of Energy flooding Massachusetts for use in energy efficiency and renewable energy development, green jobs may be the greatest source of hope to young Bostonians' looking to beat unemployment.
"It is too early to put an accurate number on job creation," said Lisa Capone, press secretary for Mass. Executive Office of Energy and Environmental Affairs, "...but we have confidence in the UMass Political Economy Research Institute Study (pre-stimulus) which estimated the creation of one job per $56,000 invested in the clean energy sector." http://www.peri.umass.edu/fileadmin/pdf/other_publication_types/peri_report.pdf
That means as many as 8,928 green jobs may be in the Bay State's future, most of them resulting from the increased investment in retrofitting buildings to become more energy efficient and eco-friendly structures.
There are currently over 250 shovel-ready projects, ranging from $11,000 to $20 million, listed under the Massachusetts Energy Task Force Infrastructure Mobilization Effort. This mobilization effort was put in place by Governor Deval Patrick. He asked that task forces be established to manage the potential receipt of hundreds of millions of dollars from the federal government for "shovel-ready" infrastructure projects. The projects are expected to create much needed jobs throughout the Commonwealth, while investing in energy efficiency and clean energy, better schools and college facilities, improved roads, bridges and rail service, a more efficient and cost-effective health care records management system, broadband expansion and more.
Building inspectors, electricians, carpenters, construction managers, insulation workers and others will be in high-demand for Energy sector jobs. And after steady declines in construction work from July 2006 to 2008, a newfound emphasis on the planet will create a reprieve for construction workers of all disciplines.
Jobs for engineers, particularly environmental engineers and scientists, are expected to grow as well.
Source: Mass. Employment Projections 2006-2016
http://lmi2.detma.org/lmi/pdf/MAprojections2006_2016.pdf
General engineering jobs are expected to grow by 8 percent over the next 10 years, while environmental engineering jobs can be expected to grow by 20 percent in that time. Even more environmental engineering technicians as well environmental scientists will grow at larger rates than their less environmentally focused counterparts.
Source: Mass. Employment Projections 2006-20016
There are many positions available for managers and other office professionals as well.

NORESCO, a leading energy service company in Westborough, Mass., is looking to add four employees to the staff of 60. These four managerial level openings include director of business development, performance engineering manager, project estimator, and senior measurement and verification specialist.

"We hire based on technical and specific industry knowledge," said, Tina Boydston, senior recruiter at NORESCO.

The company's number one client is the federal government, according to Boydston. And considering the U.S. General Services Administration is slated to spend American Recovery and Reinvestment Act's $5.55 billion (over $52 million in Mass. alone) on converting federal buildings into high-performance green buildings, NORESCO is likely to have a steady flow of work in coming years.

Terry Lawson, marketing coordinator for Evergreen Solar, the Marlborough, Mass. based solar-panel manufacturer, says his company is not hiring in the Bay State at the moment despite five open job listings on their website.

"Business hasn't changed," said Lawson. He says it's too soon to tell if there will be an increase in business to come from the stimulus package.

At the Consortium for Energy Efficiency, based in Boston, career opportunities are a bit brighter.

The nonprofit corporation, which develops initiatives to advance the use of energy-efficient products and services, is in search of a manager of member services, a research and evaluation program manager, a director of finance and an industrial program manager, according to their website. There are additionally 12 out-of-state job openings listed.