Kettlebells can be the gym in your hand
From therapy purposes to circuit-style intensity, kettlebells offer an adaptable form of training for students of all types
By Morgan Kelly


Kettlebell training has been around for centuries but it has caught on recently in the U.S. as a popular way to efficiently exercise while effectively rehabilitating injury.

What it is

Trainers and experts maintain the awkward, offset weight that resembles a cannonball with a handle provides a one-stop shop for strength, cardio training and physical therapy. Without changing the size of the kettlebell you are using, you can alter the weight and the difficulty of the exercise simply by your grip and your stance due to its offset shape.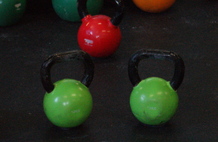 Mandla Nkosi, owner and trainer at Boston Kettlebell in Brookline, said that the difference between kettlebells and other weights is that they allow people the move more and in different ways than a machine or dumbbells could.

"Kettlebell training and the way it is being presented," he said, "provides people with exposure to exercises that ask for a type of range of motion that they aren't usually asked to produce in a lot of what's been done in contemporary modalities."
The movements that are possible with the kettlebell mimic those that the body does in daily life, making the practice a practical form of training, said Nkosi.
"When we look at picking something up, we're using the whole body," he said. "Segmented training, like on machines, tends to leave gaps in motor learning and gaps in our capacity to understand how to transfer a load or take on everyday tasks."
Why it's popular
One of the primary reasons people are flocking to kettlebells is for the ability to rehabilitate injury.
For Mandla Nkosi, kettlebells improved his shoulder injuries and his overall wellness so much it encouraged him to become educated in the practice in order to spread the word.
Lauryl Smith, 34, who has been practicing kettlebells for two and half years with Nkosi, avoided surgery in both knees with kettlebell training. After months of traditional physical therapy, she found that kettlebells were the first regimen that didn't cause her any pain.
"I can actually run faster and do better at things than I did before my injuries," she said.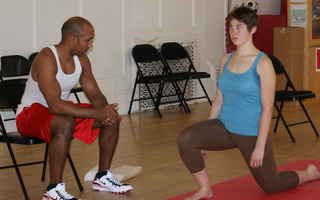 Joanna Roper suffered two tears in her knee, the second requiring knee surgery in June of 2008. She tried a regime of typical physical therapy, but she said it was unsuccessful. Now, after practicing kettlebells up to three times a week on a regular basis, her pain is gone and she said she is more active and in better shape than ever.
"Another thing that really helps with these exercises," said Roper, "is that you are really using your entire body. It's not statically addressing a single part of your body so in terms of rehab, it gets all of the parts moving together."
Stacey Schaedler, a kettlebell trainer and yoga instructor at PUNCH, emphasizes that kettlebells can be whatever you want them to be. In addition to the rehabilitation effects, kettlebell training is something that will always pose a challenge for those looking to get in shape.
To see how kettlebells can offer an intense, full body workout, click on the video below.